Back in mid-September, PADECO Co. Ltd. – Ardanuy India Pvt Ltd. JV was awarded Bangalore Metro's Detailed Design Consultant contract to assist with constructing Doddajala Depot and remodeling Baiyappanahalli Depot.
Both depots will serve the city's new 57 km Blue Line in the upcoming Phase 2A and Phase 2B project linking Central Silk Board – KR Puram – Airport. While Doddajala Depot adjacent to Phase 2B's "Airport Line" will be entirely new, the existing Purple Line's Baiyappanahalli Depot near Phase 2A's "ORR Line" will be repurposed and augmented, as shared back in 2016.
Bangalore Metro Rail Corporation Limited (BMRCL) invited tenders for this low-value design package in May 2021 with an assignment period (deadline) of 36 months. Technical bids were opened in June to reveal 12 bidders. During evaluation, RINA Consulting S.p.A. – Tata Consultancy Engineers JV's bid was rejected.
Financial Bid Values of Lowest 5:
| | |
| --- | --- |
| Firm | Bid (Rs. crore) |
| PADECO Co. Ltd. – Ardanuy India | 3.94 |
| Meinhardt EPCM | 4.28 |
| SMEC (India) – MM SPA | 4.50 |
| RITES Limited | 4.80 |
| AECOM India | 4.98 |
Tender: BMRCL/Phase-2A&2B/Airport Depot & Byp Depot/DDC/2021/76
Brief Scope: Detailed Design Consultancy (DDC) for Airport Depot at Doddajala and Remodelling of existing Baiyappanahalli Depot for Bangalore Metro Rail Project- Phase-2A&2B.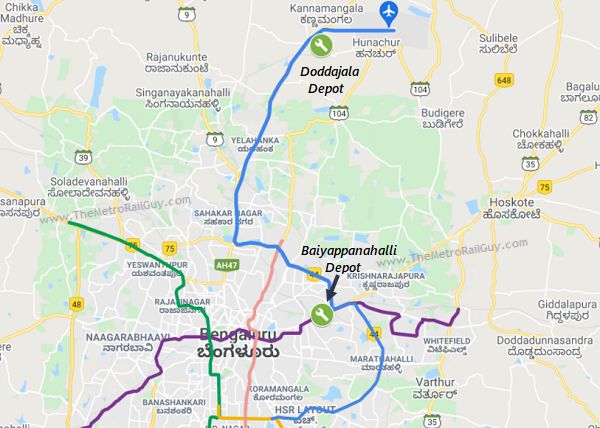 As shared earlier – the existing Baiyappanahalli Depot was built by URC Constructions in Phase 1 and consists of 16 stabling bay lines (SBL), 3 inspection bay lines (IBL) and 4 repair bay lines (RBL). Its remodel in Phase 2A involves augmenting stabling capacity from 16 to 42 lines, with the possibility of new level getting added.
A new facility for maintaining Blue Line's Communication Based Train Control (CBTC) equipped-trains at Baiyappanahalli is planned in a phased manner so that it doesn't affect train operations on the Purple Line. When the Purple Line's Kadugodi Depot and Challaghatta Depot go live, Baiyappanahalli Depot will be fully converted to service the Blue Line's CBTC equipped trains only.
The Asian Development Bank (ADB) has in the past revealed that this remodeling work will be taken up only after Phase 2B's Doddajala Depot is built. This work will be carried out in two phases:
In the first phase 12 stabling lines will be constructed and a combined shed with 4 inspection lines and 2 repair lines and pit wheel lathe PWL line by the year 2023. In the second phase, two more repair lines and test track of 750 m length shall be constructed. The balance O&M requirement for this section will be supplemented by the facility at Baiyappanahalli depot. Remodelling work of Baiyappanahalli Depot related to 2B, shall be taken up only after construction of Airport depot facility.
Both depots will house 222 new coaches (37 x 6) as part of an upcoming 318 coach contract financed by the Japan International Cooperation Agency (JICA). Tenders for both depot's civil works will be invited after detailed designs are ready which I imagine would happen no sooner than mid-2022.
For more updates, check out the Bangalore section or my Home Page!
– TMRG