The European Investment Bank (EIB)'s Board of Directors on Wednesday officially approved a 450 million Euro (approx. Rs. 3860 crore) loan for the construction of the 29.40 km Agra Metro Phase 1 project.
EIB had been in talks with Uttar Pradesh Metro Rail Corporation (UPMRC) since at least 2019 in conjunction with Kanpur Metro's development for which its board separately approved a €650 million (approx. Rs. 5661 crore) loan in July 2020.
For Agra Metro, EIB began officially appraising the project on April 23, 2021. Besides all system contracts (such as rolling stock, signalling and track-work), the recent tunneling package AGCC-02 (RBS College – Taj Mahal) which received 7 bids will be funded by EIB.
Objectives: Agra's new metro will make the city greener, safer and more business-friendly. The project will contribute to the two main objectives of the Climate Action and Environment Facility (CAEF): (i) climate change mitigation, by promoting modal shift from road to rail and thereby a reduction of greenhouse gas emissions; and (ii) the development of social and economic infrastructure by making a key contribution to urban development, thereby improving the business environment for private sector development and facilitating access to amenities and jobs.

The project is consistent with the EU Country Strategy Paper for India (2018), which highlights the infrastructure gap, including in transport, and the need to address rising greenhouse gas emissions. The EU-India Strategic Partnership: A Roadmap to 2025 further emphasises collaboration between India and EIB in the field of Indian urban transport. In addition, the operation will contribute to achieving India's Paris Alignment targets and the voluntary commitment made by the Indian government under the United Nations Framework Convention on Climate Change to reducing the greenhouse gas intensity of GDP. The project will contribute to achieving SDG 13 (climate action), SDG 11 (sustainable cities and communities) and infrastructure (SDG 9). It is expected to contribute indirectly to other goals.
Agra Metro's Phase 1 was approved by India's Central Government in February 2019 with 2 lines and 28 stations – a mix of elevated and underground sections – view detailed information here.
• Line 1: Sikandra – Taj East Gate (14.25 km, 14 stations)
• Line 2: Agra Cantt. – Kalindi Vihar (15.40 km, 15 stations)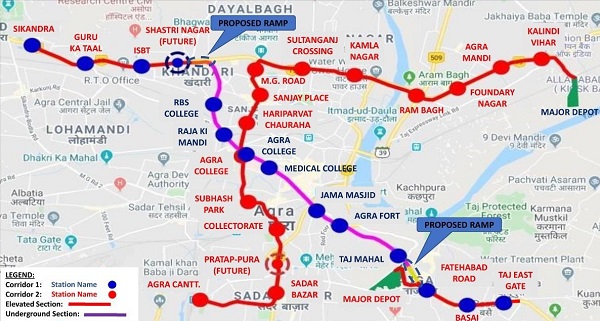 With this, Agra Metro's €450mn loan has become EIB's 6th transport loan in India. Other 5 are:
For more updates, check out the Agra Metro section or my Home Page!
– TMRG