5 firms (2 in a consortia) have submitted bids for the 750 V DC Third Rail electrification system of Agra Metro Phase 1 project, after the Uttar Pradesh Metro Rail Corporation (UPMRC) opened tenders today.
Agra Metro's Package AGE-1 & 2 is one of the few packages that has been tendered independently, with the rest (rolling stock, telecommunication, tracks etc.) getting bundled along with the newly operational Kanpur Metro.
UPMRC invited tenders for it in October 2021 with a Rs. 450 crore estimate and 36 month deadline – funded by the European Investment Bank (EIB)'s through a 450 million Euro (approx. Rs. 3860 crore) loan.
Bidders:
Alstom Transport India – Alstom Transport SA – KEC International JV
Larsen & Toubro Ltd.
Linxon India Pvt. Ltd.
Siemens Ltd.
Sterling & Wilson Pvt. Ltd. (SWPL – GSC JV)
UPMRC's Brief Scope: Design, Supply, Installation, Testing and Commissioning of Receiving cum Aux Main Substations Incl HV Cabling from Grid Substations,750 V DC 3rd Rail Traction System,33kV Cable Network, ASS, TSS and SCADA Sys for Corr-1and2 of Agra Metro Rail Project UP.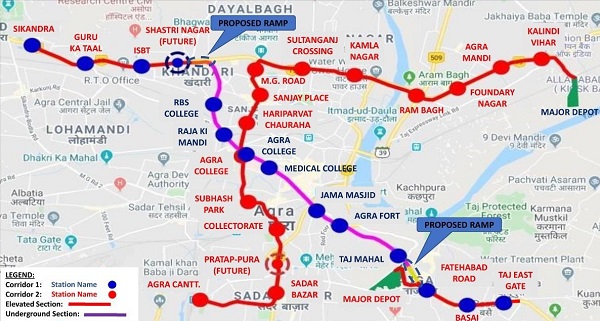 The bids have now been sent for technical bid evaluation which can take a couple months to complete. When that is done, the financial bids of the technically qualified bidders will be opened to reveal who's the lowest bidder and most likely contractor.
Agra Metro's Phase 1 was approved by India's Central Government in February 2019 with 2 lines and 28 stations – a mix of elevated and underground sections – view detailed information here.
• Line 1: Sikandra – Taj East Gate (14.25 km, 14 stations)
• Line 2: Agra Cantt. – Kalindi Vihar (15.40 km, 15 stations)
UPMRC has stipulated a 12 month deadline for Line-1's 3 km Priority Corridor (Taj East Gate – Fatehabad Road) section which is under construction by Sam India Builtwell (viaduct & stations) and Lisha Engineers (PAC Depot).
For more updates, check out the Agra Metro section or my Home Page! Sign up for free instant email notifications on new posts over here. Like this post? See how you can get early-access to updates and support the site over here.
– TMRG