Alstom Transport India on Thursday was awarded a Rs. 2631.36 crore contract by Delhi Metro Rail Corporation (DMRC) to supply 312 new coaches (52 trains) for Delhi Metro Phase 4's Package RS17.
DMRC had originally invited tenders to procure 288 coaches in June 2021 with a 236 weeks (4.5 years) delivery completion period financed by the Japan International Cooperation Agency (JICA) through a Rs. 8,390 crore loan.
The contract consists of two parts. Since June 2021, DMRC has increased the number of Silver Line coaches from 54 (9 trains) to 78 (13 trains).
Technical bids were opened in January 2022 to reveal 5 bidders. I first got wind of Alstom winning this contract from followers when financial bids were opened in mid-September. Financial bid values couldn't be confirmed, so I refrained from posting. Anyhow, CAF India is confirmed as the 2nd lowest bidder at Rs. 2701.87 crore.
Final Contract Value: Rs. 2631,36,02,343 (INR 2235,23,48,424 + USD 3,019,380 + EUR 44,348,957)
DMRC's Brief Scope: PART-A: Design, Manufacture, Supply, Testing, Commissioning, Training of 234 Nos. Standard Gauge Cars for Extended Sections of Line 7 & 8 AND PART-B: Design, Manufacture, Supply, Testing, Commissioning, Training of 78 Nos. of Standard Gauge Cars Including Comprehensive Maintenance up to Fifteen Years for These 54 Nos. Standard Gauge Cars for Aerocity – Tughlakabad Corridor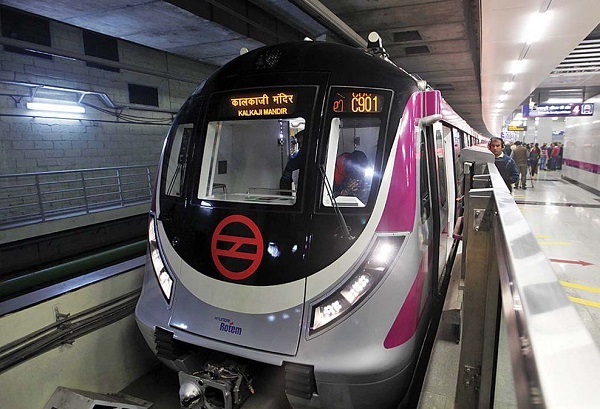 Per the tender documents, Phase 4's new trains must be 3.2 m wide, lightweight, made of stainless steel, and compliant with standard gauge track system. They must also be suitable for communications-based train control (CBTC) signaling for Unattended Train Operations (UTO) conforming to Grade of Automation level 4.
Trains will be stabled at the following maintenance depots:
Line-7 (Pink Line): Mukundpur (existing) and Vinod Nagar (existing)
Line-8 (Magenta Line): Kalindi Kunj (existing) and Mukundpur (future)
Line-10 (Silver Line): Sarita Vihar (future)
As shared earlier, to support the government's Aatmanirbhar Bharat (Make in India) initiative, DMRC had added a clause that a maximum of 72 coaches (12 trains) can be manufactured in an off-shore factory outside of India. To comply with the bid conditions, the contractor must establish facilities locally either independently or with an Indian partner.
Alstom has 2 rolling stock plants in India – one at Savli in Gujarat (acquired from Bombardier Transportation) and the other at Sri City in Andhra Pradesh. If I had to guess, all 312 coaches would roll out of Savli from where Bombardier has historically manufactured 816 MOVIA coaches for Delhi Metro.
After this order is fulfilled, which I imagine would be around 2027, Delhi Metro network's fleet will reach 2606 coaches. A full recap of all 17 rolling stock contracts can viewed here.
For more updates, check out the Delhi Metro section or my Home Page! Sign up for free instant email notifications on new posts over here. Like this post? Get early-access to updates and support the site over here.
– TMRG