July 2 Update: NHSRCL has awarded Growever Infra with a Rs. 14.05 crore contract
April 9 Original Post:
Growever Infra Pvt. Ltd. today emerged as the lowest bidder to prepare the final alignment design through an aerial LiDAR survey for the Detailed Project Report (DPR) of the 760 km Varanasi – Howrah High Speed Rail (VHHSR Bullet Train) project in Uttar Pradesh, Bihar and West Bengal.
LiDAR survey is a helicopter-based laser surveying technique for rapid and accurate collection of topographic data. LiDAR surveying works commenced in December 2020 for the 865 km Delhi – Varanasi High Speed Rail and in March for the 741 km Mumbai – Nagpur High Speed Rail's alignments.
India's National High-Speed Rail Corporation Limited (NHSRCL) invited bids for this service in mid-January with a completion period of 150 days and estimated cost of Rs. 17.56 crore. Technical bids were opened in March to reveal 6 bidders.
Financial Bid Values
| | |
| --- | --- |
| Firm | Bid |
| Growever Infra | Rs. 14.05 crore |
| RITES Ltd. (likely in a JV with Geokno India) | Rs. 16.29 crore |
| SECON Private Ltd. (likely in a JV with Helica) | Rs. 16.59 crore |
| Monarch Surveyors and Engineering Consultants. Pvt. Ltd. | Rs. 17.04 crore |
| Lokanath Construction and Survey Engineering | Disqualified |
| RS Enterprises | Disqualified |
Package: NHSRCL/CO/CA/LIDAR/2021/02
Brief Scope: Final Alignment design including Aerial LiDAR survey and other related works for Varanasi-Howrah High Speed Rail Corridor (about 760 kms. long)
The Varanasi Station will be built as part of the 865 km Delhi – Varanasi HSR line. For the Varanasi – Howrah extension of that line, NHSRCL hasn't revealed a tentative list of stations, but they're expected to come up at Buxar, Arrah, Patna, Bihar Sharif – Nawada, Dhanbad, Asansol, Durgapur, Bardhaman and Howrah.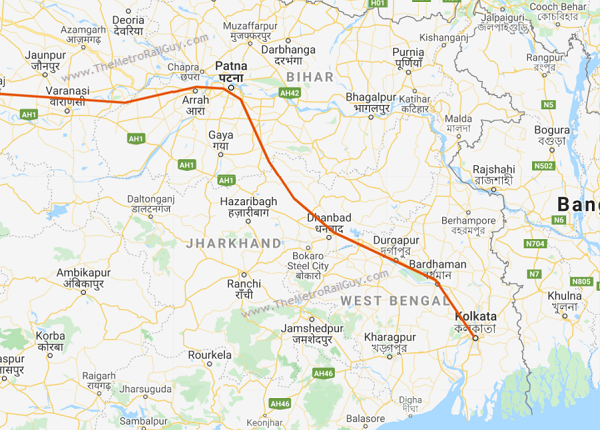 This is Groever's first LiDAR win. I've never heard of them in the past and they likely bid in a JV with a geospatial data capturing firm.
With today's development, LiDAR contractors for all 7 new HSR lines are now known. Rest were won by RITES, Monarch, SECON and Aarvee as the lead partners.
In related news, back on March 15 – Gaveshana Geosciences emerged as the lowest bidder among 5 firms for Varanasi – Howrah HSR line's utility survey to identify utilities and power sourcing options for substations. I hear they placed the lowest bid at Rs 69.31 lakh to beat the next bidder (Chetak Engineers) at Rs 1.02 crore.
Now winners are just pending for this line's SIA report and GAD preparation contracts to complete NHSRCL's contractor team. A full list of tenders/contracts for this line and their status can be viewed here.
For more updates, check out my Home Page!
– TMRG