Bangalore Metro Rail Corporation Ltd. (BMRCL) last week invited tender for the civil construction of the Purple Line's Challaghatta Depot & Workshop.
This depot of the 73.92 km Bangalore Metro Phase 2 project will be built on a portion of a 40 acre land parcel abutting Mysore Road at the southern-end of Reach 2B under construction by Soma Enterprise.
In the coming years, Challaghatta Depot will become important in running smooth operations on the Purple Line, along with the Kadugodi Depot, when the existing Baiyappanahalli Depot gets re-purposed to serve the 57 km Blue Line connecting Silkboard – KR Puram – Kempegowda International Airport.
Period of Completion: 24 months
Estimated Cost: Rs. 517.44 crore
Final Date of Submission: February 25, 2022 at 3PM
BMRCL Brief Scope: Construction of Depot cum Workshop at Challaghatta in Reach-2 Extension of Bangalore Metro Rail Project, Phase-2.
STUP Consultants Pvt. Ltd. was awarded its Detailed Design Consultant (DDC) contract in January 2020 with a value of Rs. 4.47 crore. At that time, it was planned to also consist of an Inter Modal Integration Hub (IMIH), which has now been dropped. The depot's stabling lines were earlier going to be on an elevated deck, which has since also been scrapped.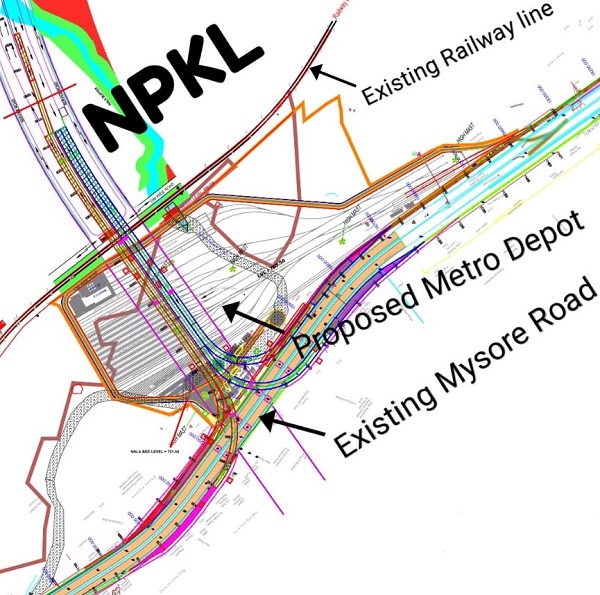 The diagonal road shown above is the under construction 119 km Bangalore – Mysore Expressway. That project has a mix of brownfield-upgrade (60%) and greenfield (40%) alignment – view details here.
I'm expecting the final 1.314 km section of Reach 2B connecting Kengeri Station – Challaghatta Station to open up in 2023. BMRCL and their system contractors first priority is to commission Purple Line's 15.257 km Reach 1A & 1B extension to Whitefield followed by Green Line's 3.031 km Reach 3C to Madavar (formerly BIEC).
Coming back to the depot, this is the 5th and final depot of the Phase 2 project to be tendered out. Recap:
See a list of all Phase 2 civil & system packages and their contractors here.
For Phase 2A and Phase 2B, tender notices are pending for remodeling Baiyappanahalli Depot and constructing Shettigere Depot by Kempegowda Airport. PADECO Co. Ltd. – Ardanuy India Pvt Ltd. JV was awarded their Detailed Design Consultant contract in mid-September 2021, so notices should be on the horizon.
For more updates, check out the Bangalore section or my Home Page! Sign up for free instant email notifications on new posts over here. Like this post? See how you can get early-access to updates and support the site over here.
– TMRG