The Italian-Thai Development – ITD Cementation India (ITD-ITD Cem) JV today emerged as the lowest bidder for constructing the 6.418 km Reach 5 – Package 1 section of Bangalore Metro's 19.14 km RV Road – Bommasandra line (Line-3) between Bommasandra and Hosa Road under the 72 km Phase 2 project. This is their 3rd win in Bangalore over the past week, a hat-trick of sorts, after they emerged as the lowest bidder for constructing Reach 1A and Reach 1B for the Purple Line's 15.257 km eastward extension to Whitefield.
The BMRCL invited bids for this package in December 2016 with an estimated cost of Rs. 468.64 crores, and the ITD-ITD Cem JV submitted the lowest bid at Rs. 485.52 crores.
Financial bid values submitted by 3 of the lowest technically qualified bidders:
| | |
| --- | --- |
| Firm | Bid |
| ITD-ITD Cem JV | Rs. 485.52 cr |
| HCC-URC JV | Rs. 495.83 cr |
| NCC | Rs. 497.87 cr |
Note: Simplex Infrastructures & IL&FS Engineering also qualified through to the financial bidding round. Their bid values will be added when available.
Besides constructing the viaduct, the contractor will  be responsible for 5 new stations at Bommasandra, Hebbagodi, Huskur Road, Electronic City-II, Electronic City-I as well as a viaduct leading into the new Hebbagodi Depot which will spread across 28 acres. Bids for the depot's construction have not been invited yet due to land acquisition issues.
As per BMRCL's March 2017 newsletter, land acquisition is still ongoing on this entire stretch – "Compensation packages in respect of 284 properties acquired for 8 KM stretch from Muneshwaranagara Station to Bommasandra are being prepared."
A detailed PDF document which shows the exact locations of all stations can be viewed here. The BMRCL has not yet announced this line's official color or invited bids for the line's system (eg. rolling stock, signalling, AFC gates, telecommunication) contracts yet.
As this section includes a depot, the BMRCL can choose to start fragmented operations here without relying on the RV Road – Silkboard section which will take a lot more time to construct due to the multi-level Jayadeva Hospital Interchange and other obstacles along the way. Timing wise, I expect this section (package 1) to open no sooner than 2021. If the BMRCL chooses to start operations on this stretch along with the rest of the line for better inter-connectivity, then I expect it to open only in or after 2022. This is an improvement over my previous estimate in December.
In the coming days, if no extraneous issues arise, then the BMRCL will go on to award the ITD-ITD Cem JV with the 72 km Phase 2 project's 7th major civil contract:
Line
Reach
Stretch
Contractor
Purple
2A
Mysore Road –
Pattanagere (3.945 km)
IL&FS
Green
4B
Yelechenahalli –
Anjanapura Twp (6.290 km)
NCC
Purple
2B
Pattanagere –
Challeghata (4.869 km)
Soma
Green
3C
BIEC –
Hessaraghata (3.031 km)
Simplex
Purple
1B
Visvesvaraya Ind. Area –
Whitefield (7.218 km)
ITD-ITD Cem
Purple
1A
Baiyappanahalli –
Visvesvaraya Ind Area
(8.039 km)
ITD-ITD Cem
Line-3
5(P1)
Bommasandra –
Hosa Road (6.418 km)
ITD-ITD Cem
Phase 2's Status
Blue: Under Construction | Black: Contract Awarded | Orange: Financial Bids Opened | Purple: Bids Invited | Grey: Bids Yet to be Invited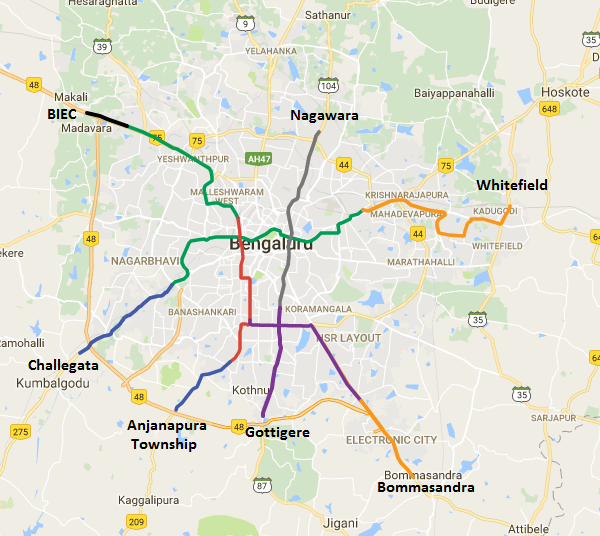 Compared to Reach 2A/2B/4B (shown in blue above) in south-west Bangalore, the BMRCL's tender evaluation team has made phenomenal progress in quickly evaluating bids for the newer stretches. Stay tuned to find out the lowest bidders for package 2 (Hosa Road – HSR Layout) and package 3 (HSR Layout – RV Road)!
May 3 2017 Update: BMRCL has awarded ITD with this section's contract:
For more updates, check out the Bangalore section of The Metro Rail Guy!
– TMRG