Sam India Builtwell on Wednesday emerged as the lowest bidder to perform architectural finishing work at 8 stations of the Delhi Metro Magenta Line's 28.92 km extension, after the Delhi Metro Rail Corporation (DMRC) opened financial bids.
DMRC invited tenders for Package DC-10B-R of the Phase 4 project in December 2020 after canceling and splitting up DC-10 which saw just DRA Infracon participate. On Tuesday, URC Constructions won the first contract for Package DC-10A-R and a day later Sam India has won the line's second package.
The 8 stations included in this package's scope are located at Madhuban Chowk, Prashant Vihar, North Pitampura, Haiderpur Badli Mor, Bhalaswa, Majlis Park, Azadpur & Ashok Vihar.
DMRC's estimate was Rs. 93.86 crore and deadline 720 days (2 years). Technical bids were opened in February to reveal 13 bidders – 11 of whom were disqualified including URC Constructions.
Financial Bid Values:
| | |
| --- | --- |
| Firm | Bid (Rs. Crore) |
| Sam India Builtwell Pvt. Ltd. | 100.29 |
| JRC Grid Engineers Pvt. Ltd. | 121.67 |
Package Number: DC-10B-R
Brief Scope: Architectural Finishing Works Including Design, Fabrication, Supply, Erection & Roof sheeting of Prefabricated Steel Roof Portal Pre- Engineered Building (PEB) Structures & Foot Over Bridge (FOB) including Design & Construction (Substructure & Superstructure) & necessary changes in existing station for connection of FOB, External facade, Water Supply, Sanitary Installation, Drainage, Site development works at Eight Elevated Stations namely Madhuban Chowk, Prashant Vihar, North Pitampura, Haiderpur Badli Mor (over existing Line-2 station), Bhalaswa, Majlis Park, Azadpur & Ashok Vihar on Janakpuri West to R.K.Ashram Corridor (Extn. of Line-8) of Phase-IV of Delhi MRTS.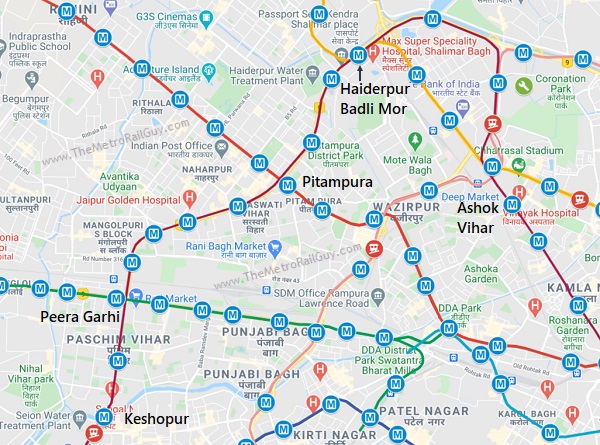 Sam India's bid was 6.8% higher than DMRC's budgeted estimate, but I don't see this going into a time-consuming retender. If and when awarded, this will be their 2nd architectural finishing-related contract in the past year after Kanpur Metro where they're working rapidly on getting 9 stations ready by February 2022.
Magenta Line's new stations at Madhuban Chowk, Prashant Vihar and North Pitampura are under construction by CCECC – KEC JV (DC-01), Haiderpur Badli-Mor was built by J Kumar Infraprojects in Delhi Metro Phase 3's Package CC-02, while Bhalaswa, Majlis Park, Azadpur & Ashok Vihar stations are under construction by Gulermak – Sam India (DC-03R).
As civil work is completed at each station, they will hand over the site to Sam India to perform architectural finishing which typically includes site development, water/sanitary installations, fire fighting, electrical & mechanical works and installation of pre-engineered roofs.
With this development, DMRC's team for architectural finishing works is now ready for Pink and Magenta lines. Tender notices for the 23.622 Silver Line's architectural finishing works are expected to be invited in 2022 after bidding for its 3 civil packages (DC-07, DC-08 & DC-09) is completed.
| | |
| --- | --- |
| Package | Contractor |
| Package DC-10A-R: Magenta Line's 7 stations (Keshopur – Deepali Chowk) | URC Constructions |
| Package DC-10B-R: Magenta Line's 8 stations (Madhuban Chowk – Ashok Vihar) | Sam India Buitwell (this post!) |
| Package DC-11: Pink Line's 8 stations (Maujpur – Majlis Park) | Lisha Engineers |
Rajan Singh on YouTube recently uploaded this video with some nice visuals of the Magenta Line under construction between Bhalaswa and Majlis Park:
For more updates, check out the Delhi section or my Home Page!
– TMRG